Planning and writing your wedding speeches can be a daunting task, but it doesn't have to be. With a little preparation and some helpful tips, you can deliver a memorable speech that will be cherished by the happy couple and their guests for years to come. In this blog post, we will offer suggestions and tips for bride and grooms to make their wedding speeches a success.

When to Do the Speeches
Traditionally, speeches were usually delivered after the main reception meal has been served. However, nowadays, this can be changed to before the meal or even in-between courses. If choosing the latter, it's best to avoid scheduling speeches during a course itself, as guests may find it difficult to eat and listen at the same time. We would recommend clearing a course and then going into speeches (e.g., if you decide to deliver your speeches in-between the starter course and a soup course, your venue staff should clear away empty plates from the starter course before launching into speeches rather than having guests eat and listen at the same time).

It is important to note a number of factors when deciding when to have your wedding speeches. Firstly, some venues or wedding hotels only allow speeches AFTER your reception meal (don't worry, here at Lucan Spa Hotel, we allow you to have the choice). Secondly, try and factor in a rough estimate on the length of speeches – if you anticipate speeches taking a long time, it might not be a good idea having these before dinner…. your guests might not be thankful as they sit through speeches growing hungry by the minute! Lastly, if choosing to run with speeches before or during the meal, make sure to select something at the end of the meal to close out that part of the day – for example, we suggest to our couples to announce cutting of the wedding cake at this point if speeches are not after your meal.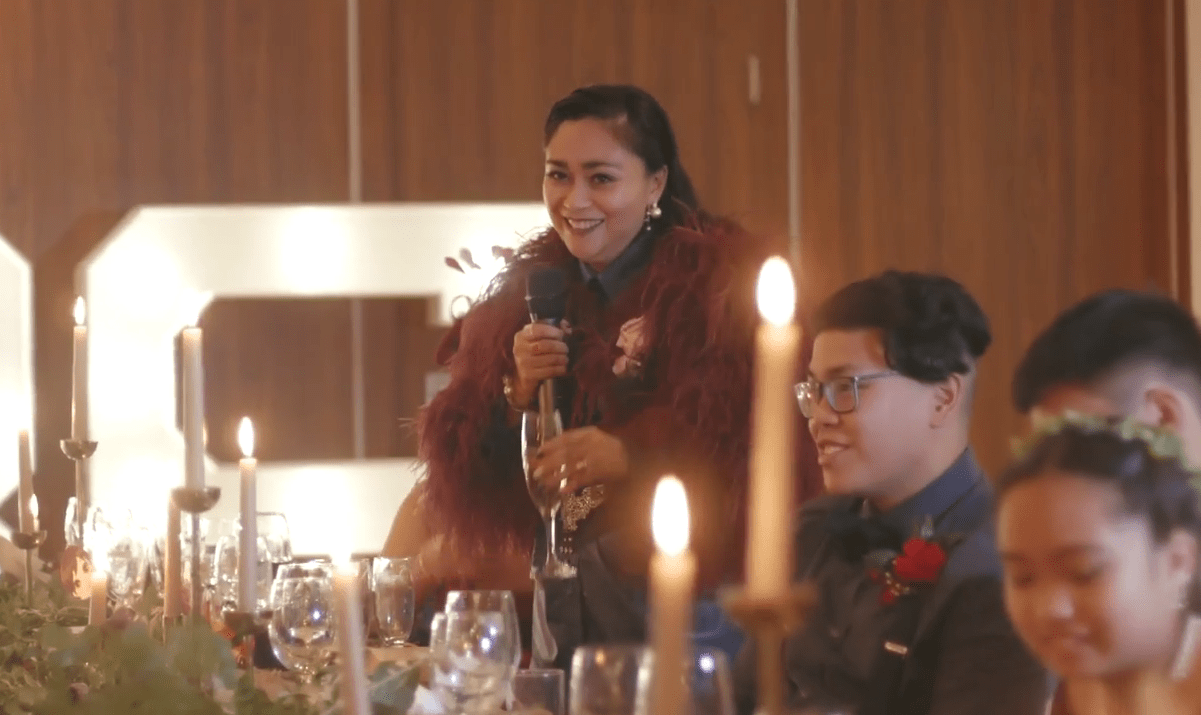 Image Credit: MDA Productions.
The Number of Speakers
There's no set rule for the number of speakers at a wedding. Typically, speeches are given by each father of the happy couple, the groom(s), while the best man has the final speech. However, it's becoming more common for the bride and chief bridesmaid to give speeches as well. If you have a large bridal party or many family members who wish to speak, consider limiting the speeches to a few key people to avoid taking up too much time.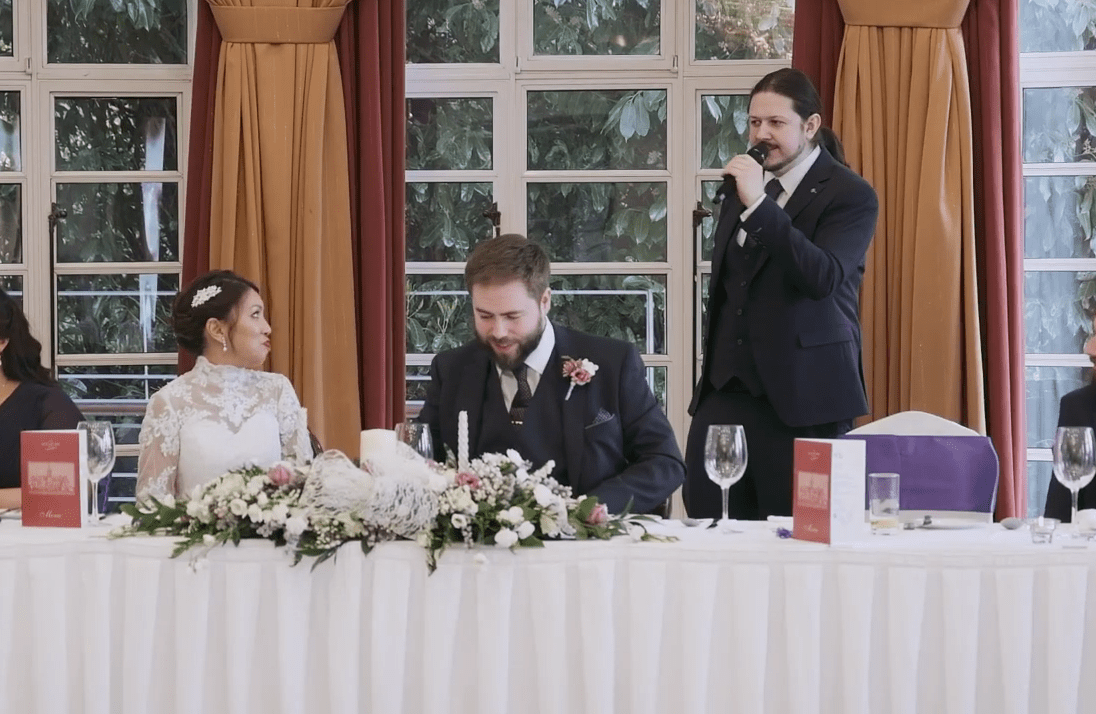 Image Credit: Reel Irish Wedding.
The Length of Time Spent on Speeches
A good wedding speech should be long enough to be meaningful, but not so long that guests become restless. As a general guideline, aim for speeches to be between three and five minutes in length. However, this can vary depending on the content of the speech and the number of speakers. It's best to coordinate with the other speakers and the wedding planner to ensure that speeches don't go on too long and that everyone has a chance to speak.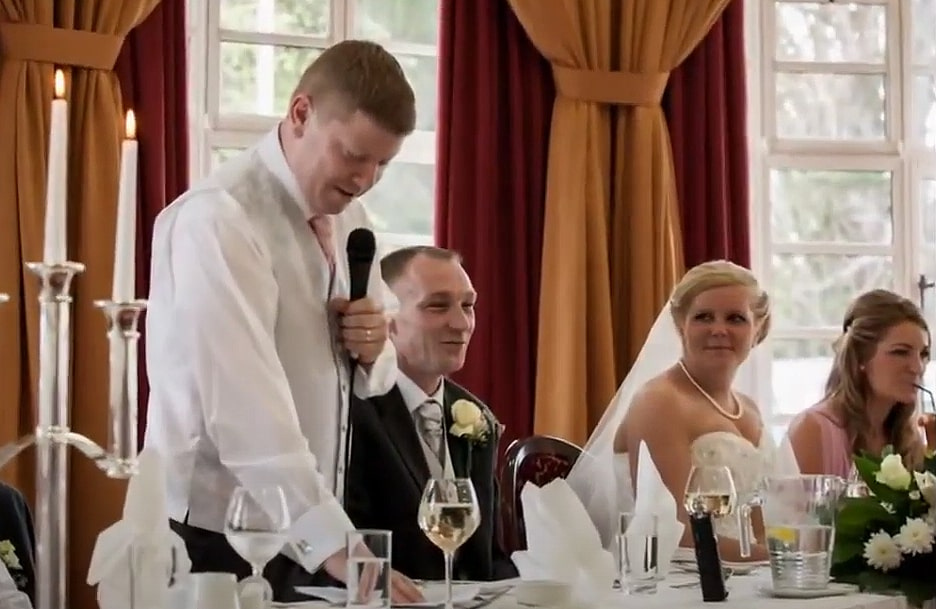 Tips on the Content to Include
The key to a successful wedding speech is to keep it personal, heartfelt, and entertaining. Here are some tips for crafting a memorable speech:
Start with a thank you. Begin your speech by thanking the guests for coming to celebrate the special day with you and the happy couple.
Share stories and memories. Personal anecdotes and stories are always a hit with guests. Share a funny or touching story about the couple that highlights their love for each other. Why not include a prop into your speech for added context.
Express your love and gratitude. Whether a bride or a groom, express your love and gratitude to your partner. If you're a father giving a speech at your son or daughter's wedding, express your pride and love for your child on this emotional day.
Keep it appropriate. We can't stress this enough. Weddings are an emotional day, and we understand the odd expletive can come out during a wedding or a personal story. However, it's important to remember that you're speaking in front of a diverse group of people, including children and elderly relatives. Keep your language and content appropriate for all ages.
End on a high note. End your speech with a toast to the happy couple. Raise your glass and invite the guests to join you in wishing the couple a lifetime of love and happiness.
In conclusion, wedding speeches are a special part of the wedding celebration. With a little preparation and some helpful tips, you can deliver a memorable speech that will be cherished by the happy couple and their guests for years to come. Remember to keep it personal, heartfelt, and entertaining, and you're sure to deliver a speech that will be remembered for all the right reasons.
---
Lucan Spa Hotel offers a wedding day of your dreams in Dublin no matter what your size and plans. For more details and to arrange your own private viewing, you can contact our wedding team by filling out the online form here.