A wedding cheese cake can be a unique and delicious alternative to a traditional wedding cake. With the summer fast approaching, here are some tips for those planning to create the perfect wedding cheese cake.

Wedding Cheesecakes can be a DIY project for any cheese-lover or can be purchased from a specialist cheese company. For those attempting the DIY route, SuperValu offer a huge range of cheeses and cheese wheels ideal for creating the perfect masterpiece.

Don't forget, a wedding cheesecake doesn't necessarily need to be a direct replacement for your traditional wedding cake – it can be put on display and served on arrival to your wedding venue for your guests to enjoy alongside a drinks reception.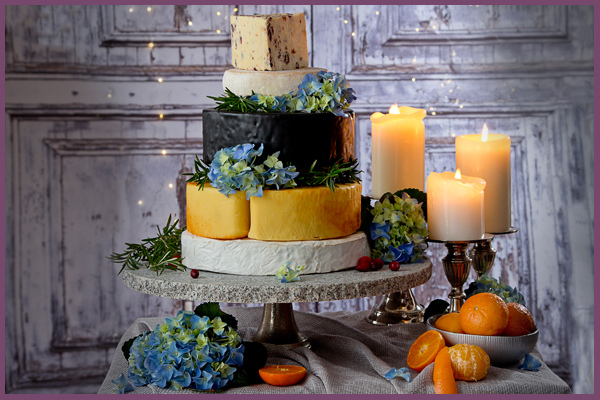 Source: SuperValu.
Choose your cheeses wisely
When selecting your cheeses, make sure to choose a variety of different textures and flavors to create a well-balanced cake. Consider including a mix of hard and soft cheeses, as well as both mild and strong flavors.

Consider the size and shape
Think about the size and shape of your cake, as well as the number of tiers you want. You may want to use a combination of round and square cheeses to create a more visually interesting cake.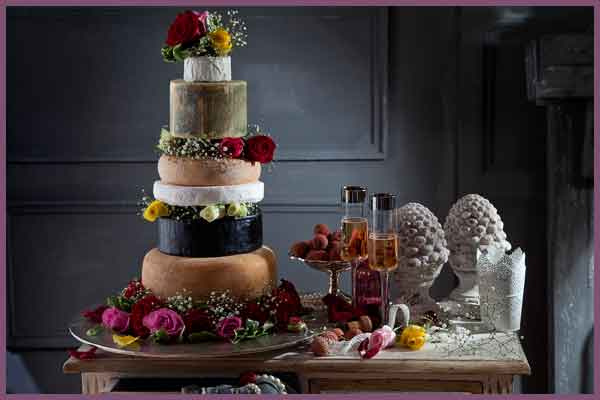 Source: SuperValu.
Decorate thoughtfully
Add decorative elements to your cheese cake, such as fresh herbs, fruits, or flowers. Make sure the decorations are not only visually appealing but also complement the flavors of the cheese.

Serve with complementary accompaniments
Provide an assortment of crackers, bread, fruits, and nuts to serve alongside the cheese cake. These accompaniments will not only enhance the overall presentation but also provide a variety of flavors and textures for guests to enjoy.

Keep it chilled
Cheese is best served chilled, so make sure to keep the cake refrigerated until it is time to serve. You may want to set it out at room temperature for 30-60 minutes before serving to allow the cheese to soften slightly. This is where the idea of serving your cheese cake on arrival to your hotel or venue to guests may come in handy, as the need to have it on display for hours during the day is negated.

Consider hiring a professional
If you want to ensure that your cheese cake is perfect, consider hiring a professional cheese monger or caterer who specializes in creating cheese cakes. They will have the knowledge and expertise to help you choose the right cheeses and create a visually stunning cake that tastes great too. The Traditional Cheese Company are an Irish-owned company and offer services all over Ireland.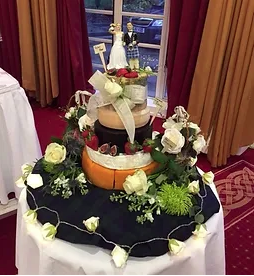 Source: The Traditional Cheese Company.
---
Lucan Spa Hotel offers a wedding day of your dreams in Dublin no matter what your size and plans. For more details and to arrange your own private viewing, you can contact our wedding team by filling out the online form here.